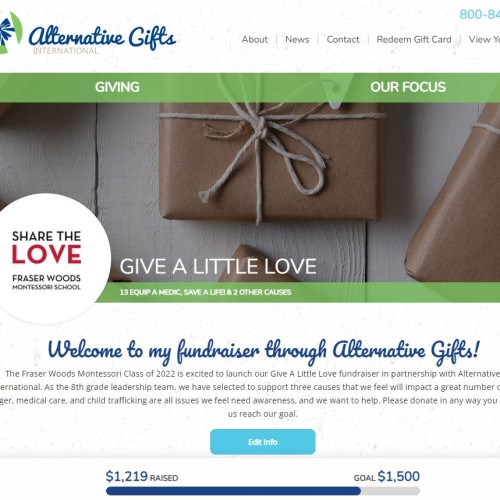 Give A Little Love: How One School Raised Money For Global Causes
February 15, 2022
Alternative Gift Markets don't have to be held only during the Christmas season. Our mission is to inspire humanitarian gifting in honor of family, friends, and associates for all special occasions.
We love partnering with organizations who value the concept of alternative gifting to support people near and far.
One school we've recently had the pleasure of partnering with is Fraser Woods Montessori School in Newtown, Connecticut, under the leadership and guidance of Michelle Lamb.
Michelle reached out inquiring about other unique opportunities for hosting an Alternative Gift Market, asking if it's possible to host a market for Valentine's Day, and we of course were happy to tell her YES!
If we've never said it before, we want our donors and supporters to know that Alternative Gift Markets can be held throughout the year!
Our staff created modern marketing materials for the Gift Market that were specifically designed for their organization. This level of personalization isn't guaranteed when you host Gift Markets outside of partnering with AGI.
Fraser Woods Montessori School hosted their Give A Little Love Valentine's Day Gift Market online using our crowdfunding tool. Specially designed order forms were given to parents of students, and they could mail their order to our office or give directly online.
Their Valentine's Day Alternative Gift Market was open for only a few days and raised over $1,000!
You can do this too.
You can create change in global communities right from the comfort of your home using our crowdfunding tool and share it with your church family, business associates, friends on social media, anyone!
This is the beauty of Alternative Gifting; you can change lives worldwide while inspiring those closest to you.
Are you ready to host a crowdfund? Click here to start your crowdfund today.
Interested in hosting an in-person Alternative Gift Market? Check out these free resources for hosting an Alternative Gift Market.
You can host an Alternative Gift Market by yourself, or with a group of friends who are passionate about volunteering to change lives.
We give the sincerest thanks to the Fraser Woods Montessori School family for inspiring global change with us!
View all news stories