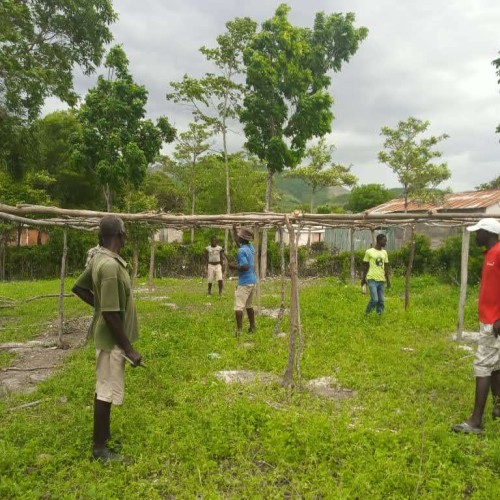 Millions Of Haitians Are Food-Insecure: You Can Help
November 4, 2022
According to recent reports from the Integrated Food Security Phase Classification (IPC), 4.7 million Haitians are currently facing crisis levels of food insecurity or worse (a third of the country!*). At the "crisis" level, there are either gaps in people's food consumption sufficient to contribute to heightened levels of malnutrition, or people can only feed themselves by foregoing other necessities. According to the IPC system, 2.8 million Haitians are in this situation.
At the "urgent" level, food gaps are so severe that people are suffering from acute malnutrition, sufficient to cause an increase in excess mortality, or they can only feed themselves by "employing emergency livelihood strategies and asset liquidation." This is the situation currently faced by 1.9 million Haitians. The looting of food supplies stored by humanitarian agencies over the past month was one response to this level of insecurity.
Finally, 19,000 people in Cite Soleil are now at famine levels of insecurity and are at-risk of starvation.
However, you can help.
Check out this impact story below of how one community in Bigue began to reforest their lands. Donations to Cause 2, Community Food Gardens, contributes to the food security of Haitians, and helps them have income.
Better Yields In Bigue
Bigue is one of the driest rural areas in the greater Gros Morne region. Despite the lack of rain, people in Bigue are primarily involved in agricultural activities. During community meetings with local agronomists, the Bigue community members identified the lack of garden yields as an issue that they would like to tackle with a collective effort.
Each summer, the agronomy team hosts interns from a local university. In summer 2021, the agronomy team sent the interns to Bigue, to work on this issue of how to increase agricultural yields with the local community leaders. The agronomists, interns, and local community members decided to set up a tree nursery with a 2500-gallon ferrocement cistern. The nursery was created using local materials, including cast-off wood and palm fronds. The community members all give of their labor to water, weed, and generally work in the nursery. When trees or other plants are ready to be planted in the ground, the community members who worked to build the nursery are able to turn their sweat equity into plants, or sometimes purchase them at an affordable price. Other community members can also purchase plants or trees from the nursery.
The agronomy team also provided starter seed kits, with seeds such as: eggplant, tomato, parsley, green peppers, cucumber, carrots, and cabbage. The farmers all attend an informational training session where they learn about land preparation and water conservation techniques. The correct implementation of these techniques, plus access to better quality seeds and starter plants, are slowly leading to better garden yields in Bigue.
Mèt Edmond is the principal of the local primary school, and a leading member of the community group that is responsible for the tree nursery. Mèt Edmond says "we identified this problem [of low garden yields], which is faced by everyone in the community. But the agronomy team showed us how to identify a solution, which was mostly in our hands. We learned how to identify some community assets, like land and labor, and then put them to use to implement the new techniques the agronomists taught us. With a few outside materials like trees, seeds, and a cistern, we are now able to begin to grow better gardens in Bigue."
Donations to Cause 2, Community Food Gardens, helps fight food insecurity in Haiti and gives them a sense of pride as they rebuild the land they rely on for food and income. Donate here: https://bit.ly/community-gardens-haiti
*Haiti Population (2022): 11,726,713 according to Worldometer.
View all news stories